Since my Freshman year of High school, filming and editing have become significant interests of mine. Most people know me for my YouTube videos, but I've also previously made media ranging from PSAs, podcasts, color and lighting experiments, and more.
---
Personal Favorite Edit:
Eagle Scout Project (Roles: Director, Editor, Casting Director, Line Producer)
Teen Dating Violence (Roles: Producer, Actor, Editor)
Ridgeland Highschool A.V. (Seinor Year)
Just Survive Somehow (JSS) Podcast
EP 1 Finished 4/28/23. EP 2 Finished 5/5/23.
Podcast discussing personal opinions on different media's like movies and shows.
Ep. 2: John Wick
"In this weeks episode, John Wick! We'll give our thoughts and opinions on the movie franchise. SPOILER WARNING!!!"
Ep. 1: The Walking Dead
"On this weeks episode, The Walking Dead! From season 1-11, we'll give our opinions and thoughts on the series."
Roles: Technical Producer, Production Assistant
In addition to assisting in set up for each podcast episode, my primary role during recordings was behind the scenes operating visual cues and graphics on the monitors behind the cast on set.
What's up Ridgeland?
Finished 3/9/23
Recap video of events that have happened at Ridgeland, with a short segment looking forward.
Roles: Director, Actor, Editor
I created the video on my own; researching what events and achievements have happened at school, writing a script accordingly, shooting and figuring out the look of the video, finding related images to use, filming a short segment with a member of the track team, and editing it all together.
Baseball Video
Finished 3/13/23
Video Promoting the beginning of the Ridgeland Baseball Season, featuring an interview with a player.
Roles: Editor
The video's producer (Ben) gave me footage that had been lightly edited, and the key parts to an interview he recorded. I was in charge of taking these and editing them together into a cohesive video.
Teen Dating Violence Video
Finished 2/23/23
Video Made for the Sexual Assault Victim's Advocacy Center, Inc. for Dating Violence Awareness Month
Roles: Producer, Actor, Editor
During planning and filming, I played a major role in giving our director Ben advice and help in visualizing how the script and shots would come together. This also helped us as I had stepped up to edit the video itself, meaning not only was I helping our director visualize the project but also myself.
I also played a minor role acting in the video as one of the main characters friends.
The Divide - My Eagle Scout Project
Finished 10/3/23
Video for Ridgeland Highschool highlighting and discussing the divide between Chattanooga Valley and Rossville students.
Roles: Director, Editor, Casting Director, Line Producer
Ridgeland came up with the initial topic and produced the production, while I fleshed it out by finding people to be interviewed and visualizing how I wanted the video to look in post. I found students to participate as assistants and as interviewers, and once shooting had concluded I edited the video as a whole.
Cause of Death: Texting & Driving
Finished 10/3/23
Entry for the yellow light project scholarship. Not my proudest work.
Roles: Everything
Most of my effort was poured into script writing, trying to ensure the video itself had a solid "hook" for viewers and properly build upon said hook all within the span of 25 seconds. This was my first attempt at fully making a video digitally as opposed to shooting IRL.
Site Section Last Updated: 12/24/22
Skills + Experience
SKILLS:
Moderate Graphic Designer: Practicing Graphic Design for roughly 3 years, as seen on this site and my youtube channel. I am proficient with the program Inkscape. Examples can be found in the Gallery.

Intermediate Video Editor: Took 4 years of A.V. in highschool, still editing videos for my own youtube channel.

Novice Computer Programmer: Practicing Computer Science mostly as a hobby, most knowledge is JavaScript or google sheets scripting. Equates to what I'd consider 2 years of experience. Been studying for 6 actual years.

Piano Player: Been playing Piano for around 8 years.

Cosplay: I cosplay occasionally, examples can be found on my Instagram.
---
ARTISTS!!
---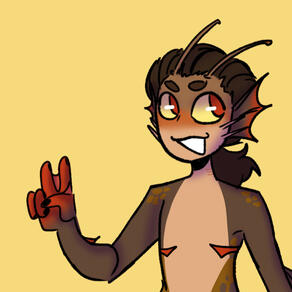 ---
PNGTuber Artist
Thumbnail Character Artist
---
Current Logo
---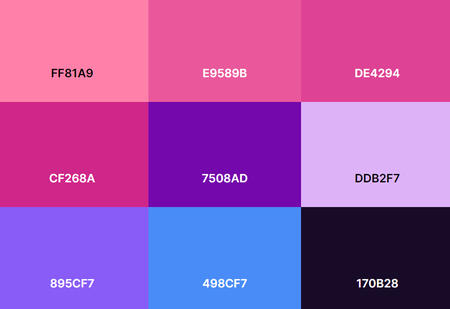 The custom color palette I use for my "G-Verse" graphics.
---
---
Stream Specs
Stream Software - OBS Studio
PNGTuber Software - Veadotube
Graphic Design Software - Inkscape
---